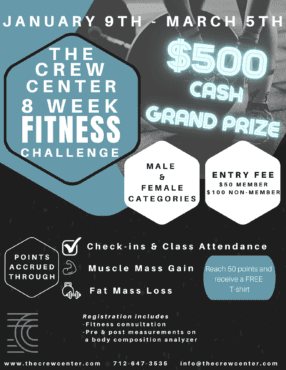 2023 FITNESS CHALLENGE
Join us for the 2023 Crew Center Fitness Challenge to add a little accountability to your new healthy habits! Male and female categories with each category receiving $500 cash prize!
Challenge Details
Entry fee: member- $50, non-member $100
Registration includes: fitness consultation and pre and post measurement on body composition analyzer
Pre body assessment must be obtained from January 3rd-6th or 9th-13th (the sooner you complete this the better)
Post body assessment obtained March 6th-10th
Unlimited access to Crew Center fitness classes and all other amenities (EVEN NON-MEMBERS!)
POINTS ACCRUED BY:
Daily check-ins = 1 point (max. 1 pt/day)
Class Check-ins = 1 point (max. 1 pt/day)
Muscle Mass Gain = 1 point per 1/2 pound gained
Fat Mass Loss = 1 point per 1 pound loss
Each male and female with the highest points acquired will be the WINNER of their category. Each contestant that reaches 50 points will receive a Fitness Challenge T-shirt!