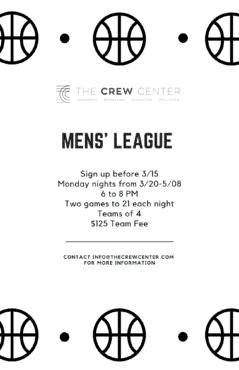 2023 MEN'S BASKETBALL LEAGUE
FORMAT
Full-court 4-on-4 basketball (if shorthanded, teams must have at least 3 people on the court to not forfeit).
GAME LENGTH
Each week a team will play two games to 21. Playing by 1s and 2s
Each team will play a minimum of 7 games in the regular season league to determine final week standings. A final 8th week will be used to determine final rankings (1vs2, 3vs4, 5vs6, 7vs8)
STANDINGS
For each win, a team receives 1 win in the standings.
For each loss, a Team receives 1 loss in the standings.
Forfeits are two losses in the standings for the team that forfeited.
SCORING
Each regular field goal is worth 1 point.
A successful shot from behind the 3-point arc is worth 2 points.
Foul shots are worth 1 point
REFEREES and FOULS
The CREW Center will provide match-ups and reports of standings each week.
League games will be self-refed and scored. Team captains will be responsible for turning in scores to front desk staff post game.
Free throws are only shot if consecutive fouls happen in a game winning situation. Example, the losing team continues to foul to avoid losing a game by fouling two consecutive defensive possessions.
Any unsportsmanlike behavior may result in that player/team being suspended/removed from participating in all CREW Center leagues.
WINNING TEAM
Each team member of the winning team will be crowned a "CREW Champion" t-shirt
***Full details of rules will be emailed after signing up or upon request***