Wellness
(Opens in a new window)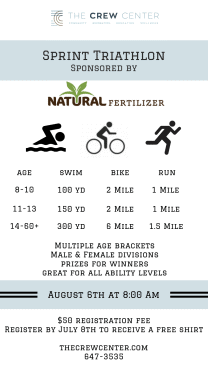 CREW Triathlon sponsored by Natural Fertilizer
The CREW Center is excited to offer a Sprint Triathlon sponsored by Natural Fertilizer. Distances (swim/bike/run) for each age group go as follows:
8-10 years – 100 yd/2 mile/1 mile
11-13 years – 150 yd/2 mile/1 mile
14-60+ years – 300 yd/6 mile/1.5 mile
Each distance will have multiple categories for different ages as well as for male and female. Prizes will be awarded to winners for each division. This race is a great opportunity for anyone to get out and moving in a fun, relaxed environment.
Register before July 8th for a FREE t-shirt with your registration. $50 registration fee. Registration fees do not include tax.
SIGNUP