Wellness
(Opens in a new window)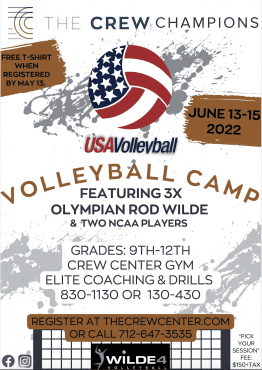 CREW Champions Volleyball Camp
The CREW Center is excited to bring our first volleyball camp to the area. This camp is open to all regional athletes who are wanting to continue their skill progressions. Rod Wilde from Wilde4Volleyball will be leading a three day camp for all participants! Camp is open for all athletes in 9-12th grade. There is a morning and afternoon time slot available to choose from to suit your schedule.
Head coach Rod Wilde's unique winning history is a primary reason for athletes to attend this summer volleyball camp. Coach Wilde is a three-time USA Olympian, once as a player and twice as a coach. Rod was a two-time NCAA All – American and the first person to ever win an NCAA gold medal as both a player/coach. Coach Wilde continues to work with the USA High-Performance Volleyball program as a head coach and mentor. During his 38 years as a volleyball coach, Rod has worked with athletes across many age groups.
His continued passion for volleyball and his level of excellence is the main component of what his camps are all about. Athletes from all clubs and regions are welcome to come and learn from a proven champion.
SIGNUP