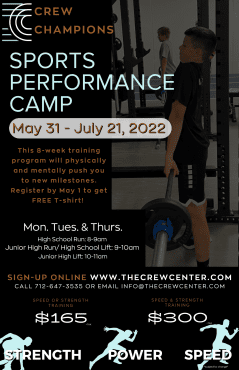 CREW Champions Sports Performance Camp
Registration is now open for the second annual CREW Champions Sports Performance camp. Program fee is $300* for 8 weeks of sessions or $165* if you choose to do one of either speed and strength training. The CREW's training camp will consist of a custom developmental program proven to provide results. Be coached and guided through eight weeks of training that will physically and mentally push you to new milestones.
Speed Training includes pre-activity prep, sprint mechanics, speed development, and energy specific conditioning.
Strength Training includes corrective exercises, specific movement teaching complexes, power development, strength development, specific assistance development, mobility enhancement, and sport psychology enhancement.
Program will run Monday, Tuesday, and Thursday and is open to junior high to high schoolers. Program times begin at 8 am for high school and 9 am for Junior high. Click HERE to email us for questions. Sessions begin on May 31st so sign up now! Register by May 31st to also receive a FREE shirt with your registration.
8-9am High School Run
9-10am Junior High Run / High School Lift
10-11am Junior High Lift
*prices don't include sales tax