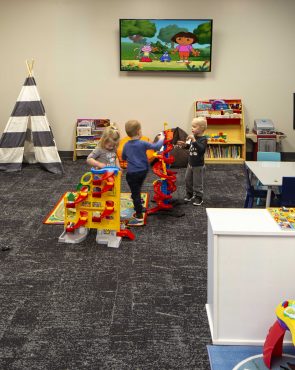 Capacity | 8
Rates (members) | Complimentary for members
Having trouble finding a sitter to go workout. The CREW Center will provide childwatch services to all active members. These will be monitored by a certified employee. Childwatch will be limited hours and availability. You must schedule ahead of time.
Child Watch Policies and Procedures:
The parent/guardian MUST remain in The Crew Center while the child/children are checked in to Child Watch.
Child Watch is available for children ages 1 – 8 years. Maximum occupancy: 8 children. 3 children total under 2 years old.
Child Watch is open MW 5:00-7:00 PM and TuTh 12:30-1:30 PM. Maximum time in Child Watch is 1 hour per day.
The parent/guardian that dropped off the child, must also be the one to pick them up. In cases of special circumstances, the Front Desk must be notified in advance and a permission form must be on file. ID will be required to be shown. Example: Grandparent or babysitter dropping off and/or picking up a child.
The pick up/drop off form, located in the Child Watch room, must be signed each time a child is dropped off and picked up.
The Crew Center provides a secure environment for our members' children by processing a criminal background check on any individual over the age of 18, requiring CPR certification and utilizing a security camera in the Child Watch room.
Online reservations will be opened up one week at a time. If you are not able to keep your reservation, please notify The Crew Center as soon as possible so the opening can be utilized by another family.
Online reservations will be given first availability. If there are open spots available, drop-ins will be allowed.
First time drop-ins MUST check in at the front desk so a registration/policy and procedures form can be signed.
Child must be picked up before the end of each hour time slot. Late pick-ups will be noted and multiple late pick-ups may result in suspended Child Watch privileges.
Please bring your child freshly diapered. Diapers will NOT be changed by the Child Watch staff. In the event that your child needs to be changed, staff will call or come find the parent to inform them. Children taken to the restroom must be able to use the restroom by themselves.
All children will be asked to wash hands or use hand sanitizer upon entry of the Child Watch room.
For the well-being of other children and staff, please do not bring sick children in to Child Watch. If your child appears sick or starts to exhibit symptoms of being sick, the parent will be notified immediately to come get them.
Please label all of your child's belongings with his/her name.
For safety and hygienic reasons, please do not bring in your child's own personal toys to Child Watch.
Child Watch provides a wide variety of age-appropriate toys.
The Child Watch room will be cleaned and sanitized by staff after each shift.
Socks must be worn in the Child Watch room at all times. Bare feet are not allowed. Cubbies to store shoes will be provided.
Disruptive or inappropriate behavior will not be tolerated. Such as hitting, kicking, screaming, throwing toys, etc. One warning will be given, but if the behavior/s continue parents will be contacted immediately.
Employees will notify parents if a crying child cannot be comforted after 10 minutes. We understand that the transition period can be tough, but please keep in mind that staff must also look after the well-being of every child in the room equally.
Medication will NOT be administered by the Child Watch staff.
NO food, candy or gum allowed in the Child Watch room. Spill-proof cups with milk or water ONLY.
The Crew Center is not responsible for lost or stolen items.
The Crew Center reserves the right to suspend or revoke Child Watch privileges from any person who neglects the guidelines listed above.