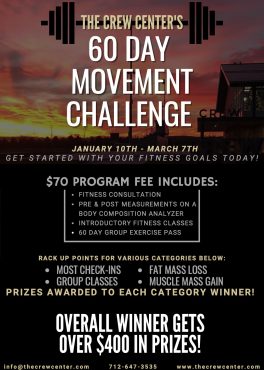 Movement Challenge
With the holidays right around the corner and many thinking about their New Year's Resolution… join our "60 Day Movement Challenge" in January to help get started with your fitness goals! An eight-week program to get you started with your fitness goals
$70 program fee includes:
Fitness consultation
Pre & Post measurements on an In-body analyzer
Introductory fitness classes
60 day group exercise pass
Rack up points for visits to the center and classes
Visit the center, attend group exercises classes, and improve your health to gain points towards our great prizes.
Prizes will be awarded for most check-ins, most group exercises classes attended, most fat mass lost, and most muscle mass gained.
Overall Winner will get over $400 in prizes. Winner will awarded Apple AirPods, $100 gift card to the CREW Center, 60-minute massage, T-shirt, body composition analysis, and a water bottle.