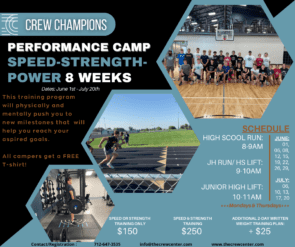 2023 SPORTS PERFORMANCE CAMP
8 Week Summer Sports Performance Camp
Get trained by our highly qualified CREW Center Sports Performance Coaches.
This training program will physically and mentally push you to new milestones that will help you reach your aspired goals!
June 1st – July 20th.
Mondays and Thursdays.
Registration:
Speed or Strength Training Only = $150
Speed AND Strength Training = $250
Additional 2-Day written weight lifting plan + $25
FREE T-shirt for everyone that signs up!
Contact us if you have any questions?
info@thecrewcenter.com
712-647-3535
Click HERE to email for more information